Running 5-28 July
Ticket Information available soon
Museum of Contemporary Photography of Ireland
The Printworks, Dublin Castle, Dame Street, Dublin
Opening Hours
Mon-Sun 10am-5pm
Extended Hours 4-6 July
We are delighted to welcome back the shortlisted dummies of the Kassel Dummy Award by Fotobookfestival Kassel. This year sees the Kassel Dummy Award's tenth anniversary, making it that extra bit special for us!
The Kassel Dummy Award is the dummy competition for the best unpublished photobook mock-up of the year. The award is open to international photographers. 50 books are selected for the shortlist and exhibited in Kassel and subsequent international photography events. 3 winners are chosen by an international jury and the dummy of the winner of the First Prize is produced and published, this year by a new festival partner MAS from Turkey.
fotobookfestival.org/kassel-dummy-award
Fotobookfestival Kassel has been engaged with the artistic medium of the photobook and has presented it in all its facets, since 2008, in a festival program of international standing. The annual festival shows works by renowned artists and promotes established and emerging talents, publishers, designers, printers, curators and booksellers on an international platform. It was the first festival of its kind dedicated to the photographic book and has founded two book awards: The Kassel Dummy Award in 2010, and the Kassel Photobook Award. Books entered for both awards are showcased regularly in travelling exhibitions at international festivals and photography events.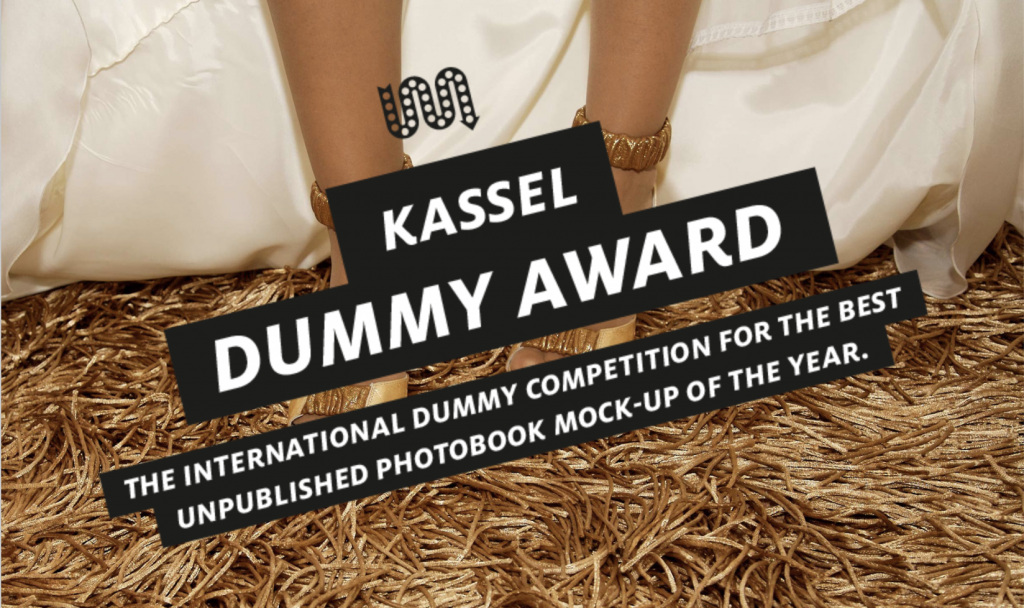 2019 Shortlist
Oliver Raymond Barker (GB), Trinity
Charles-Henry Bédué (FR), The House of Happiness
Alfredo Blasquez (MX), La playa de los juguetes perdidos
Sofia Borges (BR), White Fire
Lewis Bush (GB), Wv.B
Jean-Marc Caimi & Valentina Piccinni (IT), Güle Güle
Julio Cesar Cardoso & Shrilene Linny Silva (BR), Sete Quedas
Ignasi Casas & Andrés Bravo (GB), New Rites
Kenji Chiga (JP), Suppressed Voice
Louis De Belle (IT), Cartographies
Steven de Kok (NL), Onderhoud is behoud (Maintenance is Preservation)
Ángel de la Rubia (BE), Hay un Lugar (There is a Place)
Danilo De Rossi (ES), Materia Oscura
Jon Dunning (GB), The New Coachwork Examination
Zuzana Fedorová (CZ), Treasure in the Background
Arimasa Fukukawa (FR), Triny
Thomas Gauthier (FR), Kootenays
Dominik Gigler (DE), Iceberg
Erik Gustafsson (SE), This is Farewell
Stefan Hammer (DE), no charge Tokyo 13
Naomi Harris (CA), Haddon Hall
Maki Hayashida (JP), Almost Transparent Island
Koji Ishikawa (JP), This is not the end.
Iris Janssens (BE), Did you know?
Moritz Jekat (DE), Non ya
Patrick Junker (DE), 3804 Days
Jana Kießer (DE), das bleibt unter uns

The 3 winners will be selected in June, during PHotoEspaña in Madrid.
Koji Kitagawa (JP), Daughter
David Klammer (DE), Forst
Katherine Longly (BE), To Tell My Real Intentions, I Want to Eat Only Haze like a Hermit
Karsten Maatz (DE), Fear Might Hate
Rony Maltz & Guilherme Freitas (BR), Vila Autódromo, Rio de Janeiro
Helena Lea Manhartsberger (DE), Eat Sleep School Fight
Andrea Motta (GR), Trade – Human Trafficking for Sexual Exploitation
Gloria Oyarzabal (ES), Woman No Go'gree
Kaamna Patel (IN), Dori
Stuart Richardson (IS), Undercurrent
Lise Saxtrup (DK), I don't think you were the same, and now I wonder, was I?
Charlotte Schmitz (DE), La Puente
Thea M. Schneider (DE), Charon
Jakob Schnetz (DE), Ultima Thule
Chantal Seitz (DE), Boubou Business
Anastasia Soboleva (RU), Tear Line
Alessandra Sposetti (BR), Gilda
Maria Sturm (DE), You don't look Native to me
Bastian Thiery (DE), Humpelfuchs
Ariane Toussaint (NL), Chapitre 2–Claudine
Eiji Ueda (JP), Passion Magazine
Ekaterina Vasilyeva (RU), Road to Petergof
Sara Vighi (IT), Handbook of a Town
Dinaya Waeyaert (BE), Personal Collection
Mirjam Wählen (DE), I Thought of You as Gold, but You are Such a Pain
Miyuki Yamanaka (JP), A Story